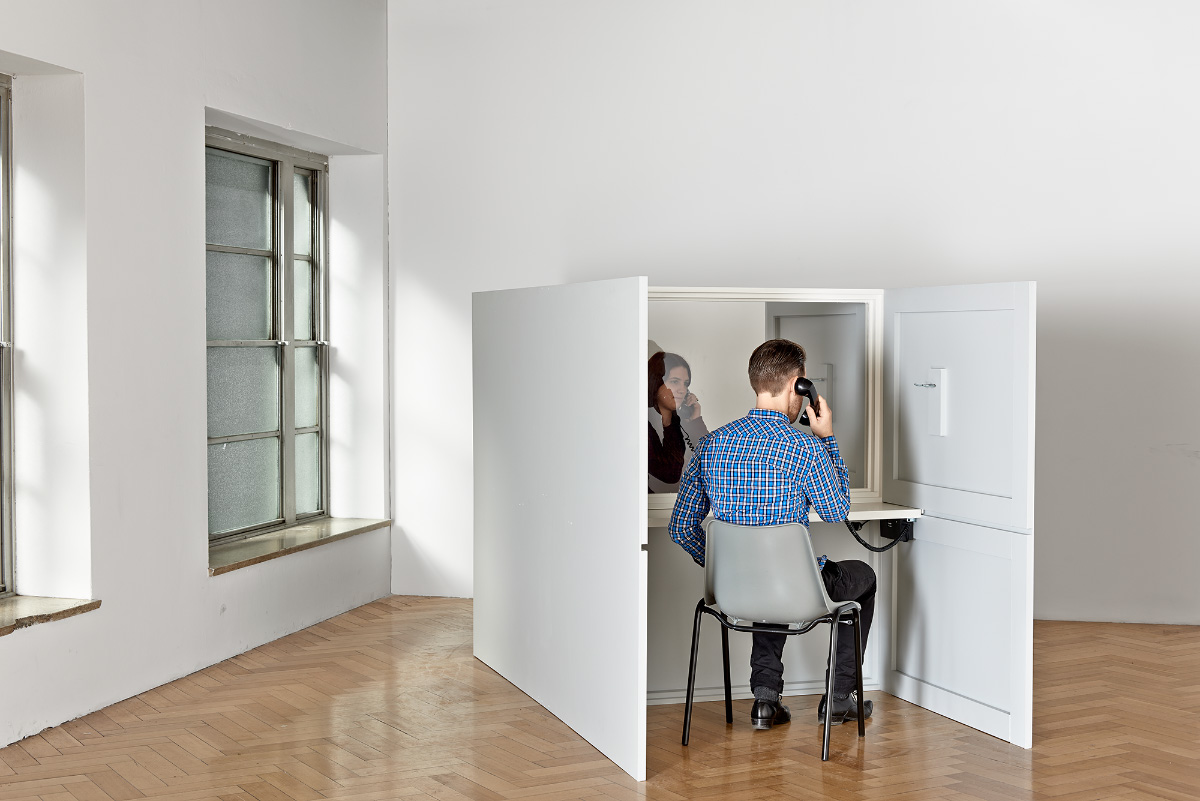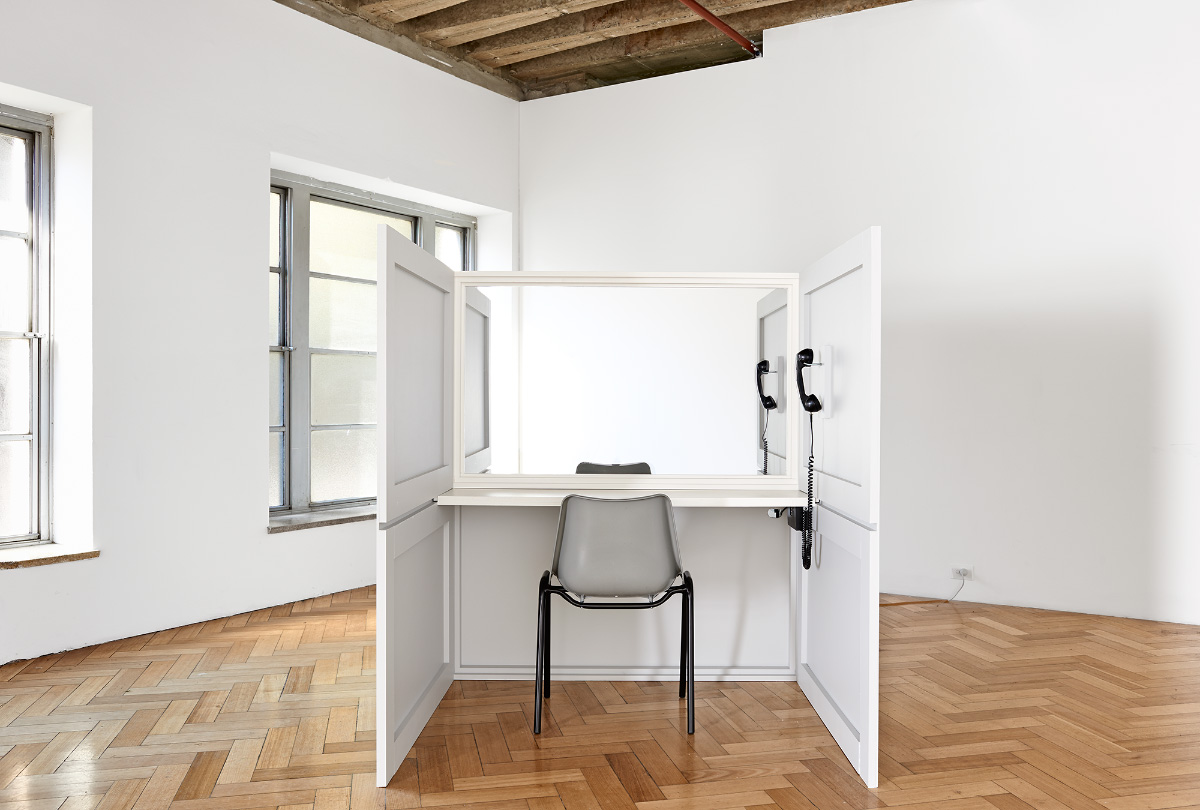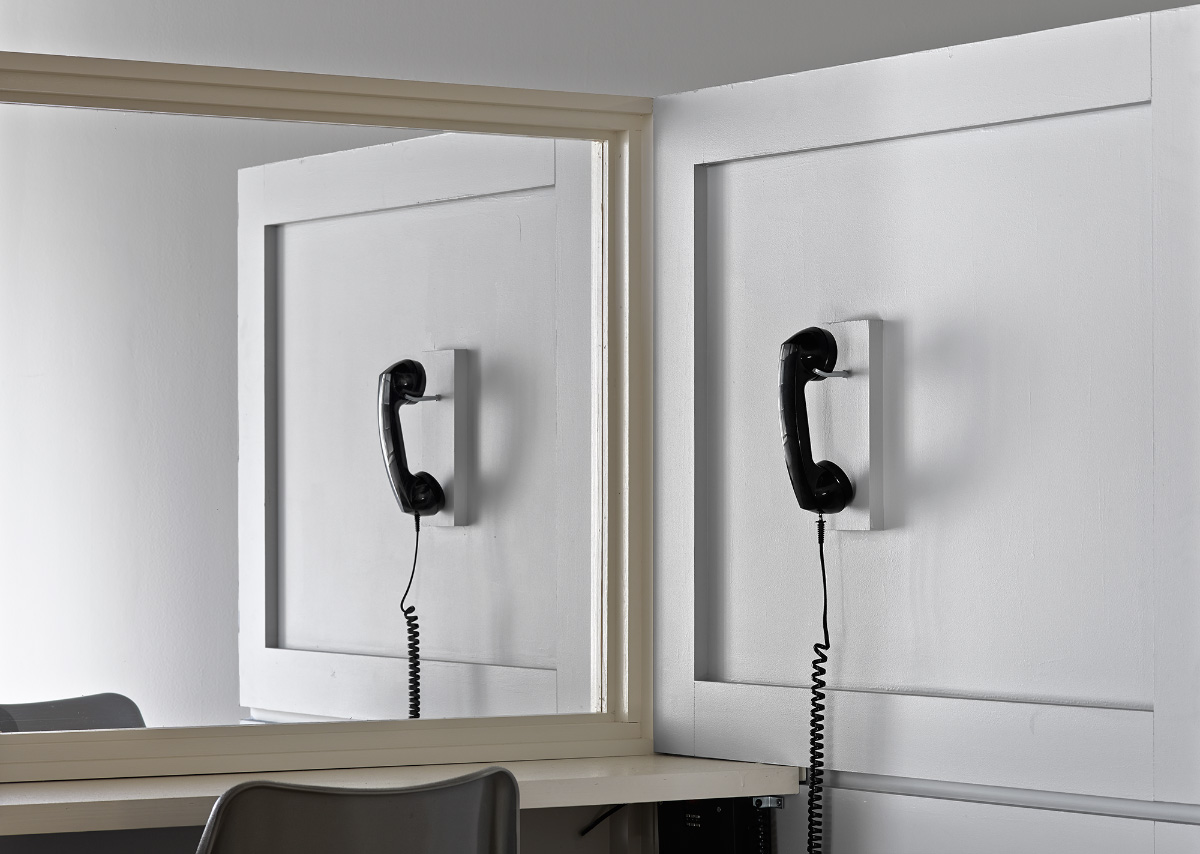 Philipa Veitch, Partisan, 2013
MDF, timber, perspex, telephone handsets, curl cord, MP3 players, two channel audio (read by Renate Wanek and Scott Donovan), Dimensions variable, Photography by Matthew Stanton
Partisan considers the form of written and spoken address known as the declaration. Reflecting on historical changes in the way in which we express notions of agency, freedom, and personal beliefs, it considers two forms of the declaration that have been synonymous with (respectively) the early and later periods of Modernity – the manifesto and the positive affirmation. Partisan looks at the ways in which writing and speech have been used as vehicles for change, contrasting the ways in which the manifesto addresses the social and political conditions that curtail freedom with that of the positive affirmation, which assumes lack of personal freedom or happiness to be a question of individual choice. While the manifesto links speech to calls for concrete action, the positive affirmation negates this final step, claiming only a repeated re-iteration of itself is required to achieve the desired transformation.
Reflecting current neo-liberal pre-occupations with self-improvement, personal advancement, and the now pervasive emphasis on notions of 'resilience', the final work contains only the affirmations. Recordings of positive affirmations relating to themes of empowerment, success and prosperity (spoken in first person singular, second person singular, and first person plural) are read by a male and female reader. The unfamiliar deployment of the terms 'you' and 'we' in the series of statements highlights the peculiar and in essence self-disenfranchising character of these types of declarations that are intended to advance one's power and success, but which only serve to mask the conditions that created the desire for the power and freedom one perceived as lacking. These recordings are listened to through telephone handsets placed on either side of a partition modeled on those used in prisons for high security or death row inmates to communicate with visitors or legal representatives. In this instance however, it remains up to the listener to decide who is imprisoned and who is 'just visiting'.
Philipa Veitch's interdisciplinary art practice explores the structural deficits of modernity and the fragility of human endeavor. Her artworks investigate the complex interconnections and radical disjunctions that lie in the interstice between the subjects' experience of the self and of the world. She has curated numerous exhibitions, and was co-director of Firstdraft (1996-1997) and Loose projects (2006-2007). Upcoming projects include Dark Arts, an exhibition investigating the machinations of the 2013 federal election, and No Signal, which will reflect on the ambiguous role of contemporary art in the hinterland of globalized late capitalism.